A Guide to Selecting the Safest Trampoline
For Your Family
Everything You Need To Know About In-Ground Trampoline Safety
While Phoenix in-ground trampolines provide hours of fun for all ages, there are important safety guidelines to be aware of when purchasing your first trampoline. Buying a high-quality trampoline will make all the difference, but what are some other points you should consider? Here is a guide straight from the experts about how to choose the best trampoline for your family.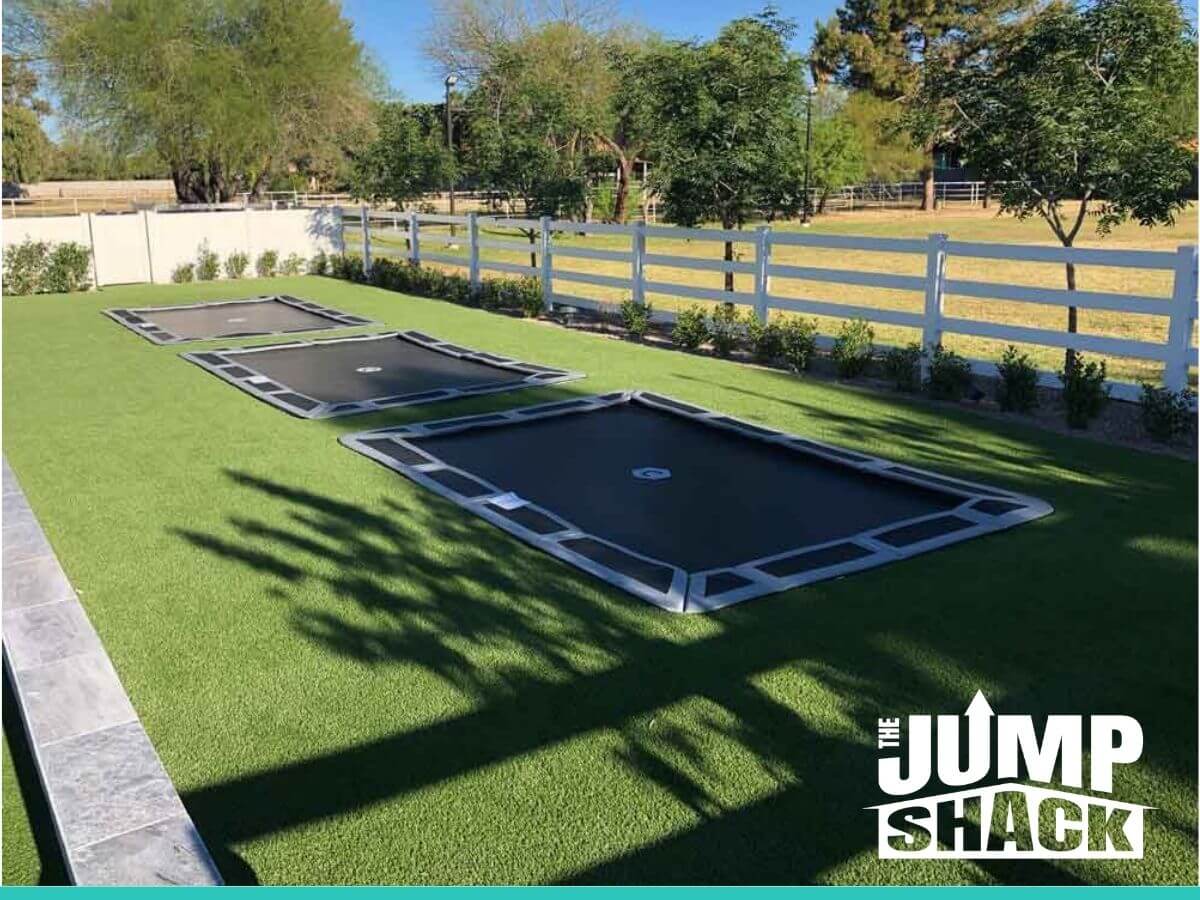 1. Check the Safety Features 
Safety features on a Gilbert in-ground trampoline enclosure include the spring padding, safety net, and jump mat stitching. Each of these should be up to quality control standards before you purchase a trampoline for your backyard.
PADDING: This should be wide and easily cover the springs, and crafted from a thick, high-density foam that is able to easily absorb impact. The padding should also be covered in a thick PVC material for extra protection from the elements. 
SAFETY NET: Your trampoline should have an in-ground trampoline in Gilbert net made of high-quality material and reinforced stitching. The entrance should have a small covering with a sturdy zipper to keep bouncers safely inside while using the trampoline.
JUMP MAT: The Gilbert in-ground trampoline mat should be ultra-reinforced with several layers of extra stitching around the edges to ensure the d-ring attaching the mat to the springs work appropriately. There should not be any rips, tears, or snags in the mat, or anything else indicating the trampoline could be defective.
2. Check the Frame
Before purchasing a trampoline, take a few minutes to inspect the frame and other Phoenix in-ground trampoline parts. Each piece should fit together snugly, and any loose fittings need to be replaced before purchase. If you are uncertain how the frame pieces together, ask your local trampoline for assistance.
3. Check the Dealer
Finally, be sure you are purchasing your trampoline and Phoenix in-ground trampoline accessories from a reputable manufacturer such as The Jump Shack. Ask lots of questions, read their online reviews, and talk with friends or neighbors who may have used the same dealer you are considering. If there is anything questionable or making you feel uncomfortable, move right along to the next one. A trampoline is a big investment, and you deserve to ask all the questions regarding your next purchase. 
If you are considering the purchase of a Capital Play in-ground trampoline, contact The Jump Shack for advice and assistance. Our dealers are knowledgeable, friendly, and always ready to help you have a good time. Read our reviews, visit one of our many locations, and come with a list of questions to ask our dealers. We want you to be totally happy with your purchase for many years, so contact us today at (800) 414-2001 to learn more!
Published by:
The Jump Shack
1528 W San Pedro St #4
Gilbert, AZ 85233
Tel: (800) 414-2001
Email: info@aztrampoline.com
Website: aztrampoline.com