A Complete Guide That In-Ground Trampoline Users Should Always Follow
Let's face it: Trampolines are a complete blast for kids, yet many parents' worst nightmare. While they are wildly popular, trampolines, or rather their improper use, can lead to many injuries and ER visits. That is why we have put together this inclusive guide for trampoline use to provide direction and boundaries for Arizona in-ground trampoline users. As with any piece of equipment, safety matters most and has a direct impact on the user's trampoline experience.
Getting healthy is also a popular use of trampolines and Mesa in-ground trampoline enclosures. At The Jump Shack, we know the value of getting healthy and having fun while doing it. Thus, we have compiled this simple set of guidelines to go with our selection of Gilbert in-ground trampolines for sale.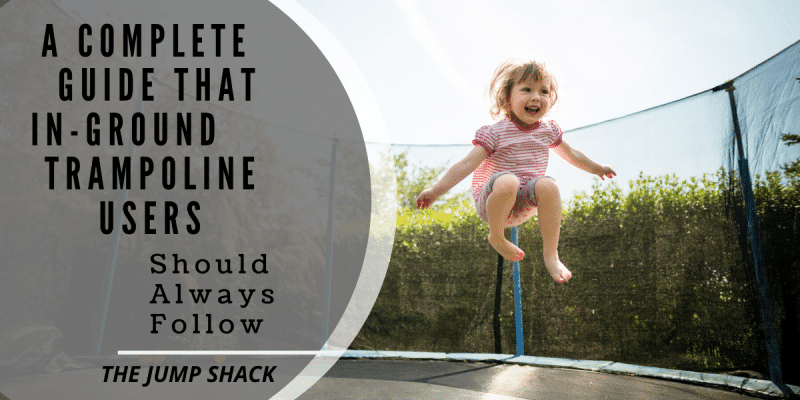 TRAMPOLINE USER GUIDELINES
This safety manual is not 100% comprehensive, but it contains all the basic safety guidelines for a quality trampoline experience. As always, use common sense when around the Arizona in-ground trampoline parts, and HAVE FUN!
1. Do not jump alone. Always have supervision, or at least make certain someone in close proximity is aware
that you are jumping on the trampoline.
2. Do not somersault or flip.
3. Remember to remove all jewelry (earrings, necklaces, rings,bracelets, anklets, and more) that could
catch on the Arizona in-ground trampoline mat and cause severe resulting injury.
4. Always jump barefoot, in socks, or wearing approved trampoline footwear.
5. Do not allow more than one person to jump at a time. The only exception is if one adult is helping to
stabilize one young child while the child is jumping.
6. Or, if two jumpers are evenly matched in weight, they may carefully use the trampoline together.
CAUSES OF INJURY
Adhering to these basic guidelines will ensure a safe experience and help protect against injury. Be aware that there are multiple ways injury can occur. These include:
1. Hitting other jumpers while jumping.
2. Trying to do tricks, flips, somersaults, or stunts.
3. Leaning into the Gilbert in-ground trampoline net. The net could rip or become detached, causing the
user to unexpectedly fall and get injured.
4. Getting tangled or pinched in the springs or other Arizona in-ground trampoline accessories.
5. Jumping when the trampoline mat is covered with snow or ice.
6. Setting up the trampoline under tree branches or other structures where a jumper could hit their head.
The experts at The Jump Shack want to ensure you have an exhilarating and safe experience while using your trampoline. Following and enforcing these simple guidelines and being aware of causes for injury will go a long way in protecting you, your family, and friends from injury while jumping. If you are considering purchasing an in-ground trampoline for your home, visit The Jump Shack to browse our wide selection of Capital Play trampolines. With our extensive warranties and variety of options, we will be sure to find the perfect fit for you!
Published by:
The Jump Shack
1528 W San Pedro St #4
Gilbert, AZ 85233
Tel: (800) 414-2001
Email: info@aztrampoline.com
Website: aztrampoline.com