Leading Swings Sets For California Backyards
At The Jump Shack, we know that part of childhood is having fun on things like swing sets. Your children can thrill themselves with all kinds of activities, including swings, slides, and ladders. We have a wide range of them with so many different ways that you can customize them to suit your child's personality. They will have hours of fun each day while taking in the beautiful California air.
This is a great way to provide lasting memories that they will carry with them as they get older. They can get a love of physical activity that will help them stay in shape as the years go on. Need some help picking out the right set? Our experts will be more than glad to help you make the best choice.
Get Your Playground
Swing Sets Today!
California's Top-Rated Swing Sets
& Playsets Supplier
We have the best brands of swings and playsets available in California. You will get ones that are made by reputable manufacturers who also stress safety. Our expert workers can show you how to help assemble them both via phone or with our simple online instructions.

Shop Affordable Swing & Playground Sets Online
You don't always have to go to a physical site to see swings and playground sets. We have a large selection of them that you can look up online and pick the best one for your kids and family. It's easy to get the one that you want and not have to pay as much money as you might have had to pay elsewhere. Come browse our selection today and help start your child's memories!
Our Clients Testimonials
California's 5-Star Playground Equipment Store
Why does The Jump Shack have such a great reputation in California? Our workers are very knowledgeable about our products. We also offer top-tier playground equipment for prices that are very affordable. They are durable and will last a long time, which will make the people of your family very happy over the years. We will gladly answer any and all questions that you might have. Then we will get the equipment to you in perfect condition and even set it up for you if you need us to.
The Jump Shack is a great company!! I would highly recommend them to anyone that I know.
Zack V.

Ordered a 10x14 foot rectangle inground trampoline, 9 days ago, got a pleasant email when it shipped, order arrived delivery was fast and polite. Excited to get it in the ground for the kids.
Daniel G.

Tyler has gone above all expectations with helping us get everything ordered and ready for our trampoline! He was so helpful and we are so excited for our trampoline!
Jillian N.

The Best Prices On Outdoor Playsets in California
We want your children to have an excellent time on our playsets. That is why we offer such great and affordable prices. Every child should be able to have fun like this. Childhood goes by too fast as it is … this gives them the chance to grab and hold onto that as long as possible. If you have any questions at all, do not hesitate to contact us. We want to see those smiles on your kids' faces, too.
#1 Retailer For Kids Swing Sets Near You
There is a reason why we are so highly regarded in California by customers who are looking to buy swing sets – we pride ourselves on our customer service. Our trustworthy staff will work closely with each and every customer to ensure that they get exactly what they both need and want. They listen to them and make suggestions on things that might suit that particular person's yard and the preferences of that person's family. We want to make the perfect match on swing sets each and every time.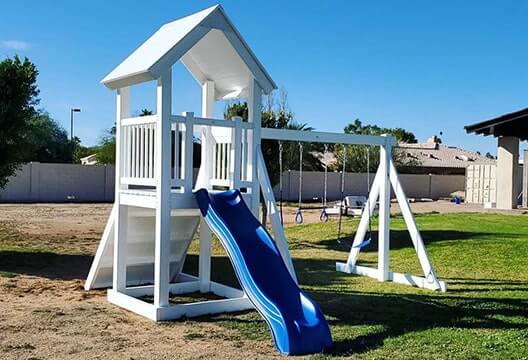 Installation Service Available
Free Shipping In Arizona
Variety Of Styles & Options
Add Picnic Table or Mist System
Custom Sizes Available
High-Quality Playground Sets For Sale in California
California's Most Popular Kids Play Sets
At The Jump Shack, we know what kids like when it comes to playsets. We carry the most popular ones – ones that will make your children laugh with joy each and every time they use it. Families all over California love using us to get what they need for their kids. They know that we sell things that are both durable and also safe, following every single safety regulation. That way, they can let their kids play on them without having to worry about someone possibly getting hurt. Feel free to check out our collection of playsets today!

Buy A Trending Backyard Playground In CA
We sell all kinds of backyard playgrounds that have many different parts, like slides, swings, and other things. You can get a unique one that will make it stand apart from others … or you can get popular ones that your kids love from other places. It's all about happiness at The Jump Shack.

Compare Premium Kids Backyard Playsets
We have the best backyard playsets – they are unique, durable, and will look perfect in your backyard. You can look at the different selections of premium ones that we carry and find the one that fits your family's needs perfectly. Your kids will love what you choose.

Oversized Children's Swing Sets For Sale
Sometimes larger is better. That is definitely the case when it comes to oversized children's swing sets. Your kids will have a huge amount of fun with them … and we have a great selection of them to choose from. Come bring the fun home!

Large-Sized Kids Play Sets for CA Backyards
Your children will have a lot of choices when it comes to our large-sized kids playsets. It will dominate your backyard and it will be worth it seeing them have hours of fun using something that has also been designed with safety in mind. Check out our selection!

California's Online Store for Outdoor Swing Sets
Do you live in California and are looking for an outdoor swing set? We are the premier destination for that. Check out our site and scroll through our offerings. Chances are good that you will find what you need right away. Then you can order and we will take care of the rest!

Customize Your Kids' Outdoor Playset
Your kids have imagination. So can you, when it comes to designing the perfect outdoor playset for them. We have so many different combinations that you can choose from that it will be truly unique. Then you can proudly display it outside your home and watch your kids have fun!