Frequently Asked Questions
IN-GROUND TRAMPOLINES – YOUR QUESTIONS ANSWERED
We're here to help make your in-ground trampoline installation run as smoothly as possible. Although perhaps daunting at first, installing a Capital Play In-Ground Trampoline is really very simple, it just takes a bit of muscle & time. We have listed some of our most frequently asked questions below.
If you need further assistance or would like a free estimate for us to install your AZ in-ground trampoline for you please email us at info@aztrampoline.com or call us free at:
COMMON QUESTIONS
Safer.
 In-ground trampolines are generally safer than normal trampolines because they're flush-to-the-ground not raised above the ground accessed by a ladder. Parents have peace of mind when they let their kids loose on an
Arizona in-ground trampoline
. There's no worrying about young children falling off the ladder or remembering to zip themselves in.
Statistically, most serious trampoline accidents happen when children fall through an open zip/damaged net or fall off while climbing up the ladder to access the trampoline. These risks are negated with an in-ground trampoline.
The look amazing! In-ground trampolines are designed to work with your garden design unlike traditional trampolines which can be an eye-sore in a garden. Above ground trampolines take up a significant amount of space and are immediately visible in a garden. For those conscious about the presentation and look of their garden, this is a significant drawback. This is not a problem with in-ground trampolines as their lower profile makes them less obvious, or indeed hard to spot at all – they easily blend in with the surrounding landscape.
Freedom to play, more fun. Kids can run on and off the trampoline at will and play many more creative games. There's no net or platform to interfere with their enjoyment. Parents need not supervise as much as issues of 'getting on' and 'getting off' the trampoline are removed.
No fear of being enclosed. Young kids sometimes get frightened being zipped inside a net away from their mom or dad. An in-ground allows parents and children to interact more – mom and dad can stay in close contact at all times.
Better bounce. The trampoline frame is buried firmly in the ground allowing no movement of the frame. On a traditional trampoline energy can be dissipated as the frame moves a little when you bounce. This does not occur on an in-ground trampoline resulting in a better quality bounce.
Quieter. In-grounds are less noisy because the frame (which can squeak) is buried underground and the retaining wall keeps the frame very rigid. Trapped air escapes silently through the pads.
Lower maintenance cost. In-ground trampolines cost less to maintain if you do not have a net which is the most frequently required and costly replacement part.
Less damage risk. In-ground trampolines eliminate the possibility of damage occurring because your trampoline cannot be blown away in high winds.
Great for parents. Climbing up a small ladder and through a small zip can be somewhat off-putting for an adult. It's much easier to just walk onto the trampoline. You'll love it!
They need not be and with the new range of Jump Shack In-ground trampolines, they are now more affordable than ever. If you're prepared to do the groundworks yourself (i.e. dig a hole), then the only cost is the 
Jump Shack In-ground Trampoline Kit.
Our kits include everything you need – a top specification trampoline designed specifically for in-ground installation, retaining wall and vented surround pads for a superb bounce and no 'pad slap' noise.
The bounce quality of an in-ground trampoline can be compromised as the air under the trampoline gets compressed resulting in an inferior bounce. It's important to allow the air to escape freely and the best solution is to use vented pads pictured here.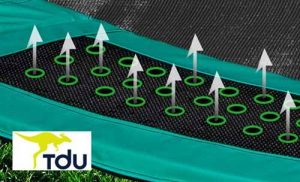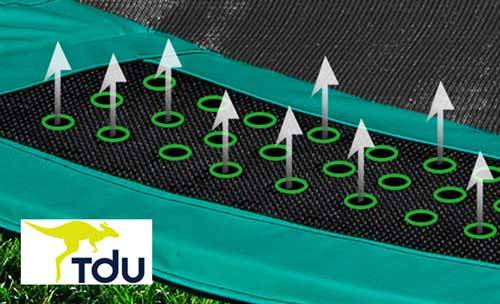 You can also use vent ducts using 4 inch flexible ducting hose coming from under the trampoline to somewhere on the outside of trampoline. The problem here however is to decide where to put the ducting so it doesn't become an unsightly hazard near the trampoline.
The actual frame of the trampoline is held very firmly when it's in the ground and therefore minimal energy is dissipated through small movements in the frame that you get with an above ground trampoline. This helps to improve the bounce of an in-ground trampoline.
When you bounce on a trampoline, the air underneath needs somewhere to escape. On an in-ground trampoline the only place for the trapped air to be expelled is through the springs and under the safety surround pad. The trapped air can force the pads up which then slap down against the trampoline mat. This noise can be loud and off putting – pad slap noise has even been known to cause neighbourly disputes!
Our excellent solution is to use special vented pads which allow air to easily escape through the hole vents in the padding which completely eliminates pad slap noise. Check out this video:

The Jump Shack In-ground range of trampolines have been designed specifically with DIY in mind. The Jump Shack In-Ground kits come complete with everything you need – that's the frame, the retaining wall, springs, bounce mat and vented pads.
Easy to use instructions are provided and telephone/email help is always available from our qualified staff. Contact our Phoenix in-ground trampoline installation company to find out more.