Oklahoma's Leading Playground Store
When your child looks back at their childhood in Oklahoma, you want them to have fond memories of times that they had fun out in the outdoors. You can get things for them to do at The Jump Shack. We have swings, slides, ladders, and other parts of playsets and swing sets. They will be able to spend hours outside exercising both their imaginations and their bodies.
This will be a worthwhile investment for you, especially if you have a family with several children. The things that we sell will last a long time since they can withstand a lot. You could be looking at something that could last a decade … and you can keep customizing it as you go along. Do you have any questions? We will gladly answer them for you. Contact us today!
Playground Swing Sets For Sale
Oklahoma's Favorite Swing Sets & Play Sets Supplier
We make it our business to have everything that can make a child have hours of fun. You can look through our selection of swing sets and playsets and find the one that will fit your budget the best. We are ready to help!

Shop Affordable Swing & Playground Sets Online
People are watching their budgets. We sell things at such excellent prices that people can get what they want without having to strain their wallets. Our selection is top-notch and features trustworthy brands – just because the price is low doesn't mean that the quality is. You will love what we have available. Our staff is ready to help all Oklahoma residents get the backyard play equipment that they always wanted.
Our Clients' Testimonials
Five Star Oklahoma Playground Equipment Store
When you shop at The Jump Shack, you are going to get more than just excellent play equipment. You are going to be receiving stellar customer service and fantastic prices. Our staff is ready to help guide you through everything you need for your backyard. They will listen to what you have to say and then use their knowledge and experience to make any suggestions if you want to hear them. The end result will be an excellent shopping experience and years of play memories for your Oklahoma family.
We ordered our inground trampoline from Jump Shack. Tyler was SUPER responsive and answered all my questions, he was beyond helpful. While we waited for our order to come in he was very good at communicating updates. Our trampoline was installed today and it is SOO nice... it's seriously gotta be the nicest trampoline I have jumped on. Would definitely recommend Jump Shack to anyone and everyone
Chelsey P.

The Jump Shack is a great company!! I would highly recommend them to anyone that I know.
Zack V.

Compare Prices For Outdoor Playsets In Oklahoma
We are popular in the Oklahoma area because we sell things for fair prices. The main goal is to get things for you and your family to enjoy for many years to come. Our prices are stress-free. Take a look at our selection of all kinds of play equipment and see what you or your family like. Then compare the prices to other places. You will love the bargain that you are getting when you use The Jump Shack.
Local Retailer For Kids Swing Sets Near You
Do you live in Oklahoma and need a kid's swing set? The Jump Shack is the place to go to find all of this. We have a large selection of kids' swing sets of all sizes and they are customizable so that you can get the one that fits your vision. You can get the one that has just the right color that you want. There will be one that is exactly the one that you want. Contact us today to learn more about what we can do for you and your backyard!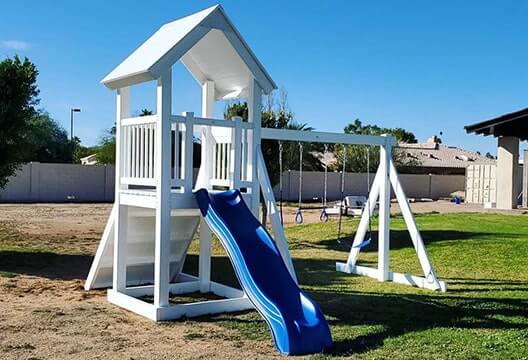 Installation Service Available
Free Shipping In Arizona
Variety Of Styles & Options
Add Picnic Table or Mist System
Custom Sizes Available
Take A Look At Our Playground Sets For Sale
Oklahoma's Most Popular Kids Play Sets
We have so many different types of playsets at The Jump Shack. They include ones from popular brands. They are strong and long-lasting, and we make sure that we sell ones that meet or exceed safety regulations. That way, your children will be able to play for hours with a much lower chance of getting injured. That will be a time when you can relax in a chair and watch them enjoy themselves on these playsets. We stand by each and everyone that we sell and we can also help set them up if you need us to do that for you.

Buy A Trending Backyard Playground In OK
You want to get the best backyard playground. Take a look at what we have and see what is popular. Our selections offer a lot of variety and can offer fun things to a wide range of kids. After looking, you will find the one that fits your Oklahoma backyard.

Compare 5-Star Rated Kids Backyard Playsets
We have playsets that have received rave reviews from many customers. You will be able to find one that you like that has a lot of people giving it five stars. Then you can get it for an excellent price and receive fantastic service that is also worthy of five stars.

Check Out Oversized Children's Swing Sets For Sale
Your kids will have so much room to swing on the oversized swing sets that we have for sale. They are impressive to look at and they can offer a lot of fun for kids of all ages. Take a look at the selection that we have today!

Large-Sized Kids Play Sets for OK Backyards
Sometimes you want to get things that take up an entire backyard. One of those things is a large-sized playset. Your children will have so many choices of things to do, and they will be made with their safety in mind. You will be able to watch them play with no worries.

Oklahoma's Online Store for Outdoor Swing Sets
Are you looking for a swing set? It seems like there are a lot of choices. You can help narrow that down by looking at our online selection. Take a look and see what grabs your eye. Ordering is very easy. Contact us if you have any questions!

Personalize Your Oklahoma Kids Outdoor Playset
Your kids are not the only ones with imagination. You can exercise yours when you figure out what you want to customize your playsets with. The sky is the limit and you can find many different ways to shape the playset with so many different parts. The result will be a masterpiece!