Top-Rated Swings Sets For Phoenix Backyards
The Jump Shack is well known for its wide selection of in-ground trampolines from Capital Play. What you may not know is that we also offer a large variety of unique, exciting playsets and swing sets for children of all ages! Ranging from simple to complex, each Phoenix swing set is designed to provide a basis for hours of fun, imagination, and creative play. Built with the highest quality materials for durability and longevity, your investment is worth every penny and will last for years to come. Visit The Jump Shack in Phoenix today or start browsing our inventory online to find the perfect addition to your backyard!
Get Your Playground Swing Sets Today!
Phoenix's Favorite Swing Sets
& Playsets Supplier
Our team at The Jump Shack has worked diligently over the years to foster a strong relationship with the world's top manufacturers of swing set materials. Our goal is to offer each piece at a competitive rate so that every family can have the ultimate backyard addition!

Shop Affordable Swing & Playground Sets Online
Our entire inventory at The Jump Shack is available online in a simple, easy to use format. We want your browsing to be comfortable and fun! With a wide selection of colors, styles, and options, The Jump Shack also has customizable packages available so that every family can create their own ideal play set. With competitive rates and discounts, our Phoenix playground swing sets are the best you will find anywhere. We are proud to offer incredible warranties, free delivery, and skilled installation services with each set! Give us a call today to learn more.
Our Clients' Testimonials
Phoenix Playground Equipment Store With 5-Star Reviews
Since day one, The Jump Shack has built a strong reputation throughout the community and the greater Phoenix Valley for providing the highest quality playsets and in-ground trampolines around. Our team is dedicated to bringing hours of fun, entertainment, and creative play to your backyard with custom-sized swing sets. Choose from a variety of colors and styles, or build your own for a truly unique play experience. Families consistently recommend our Phoenix playsets and swing sets and our company for our extra installation service, free local shipping, and excellent customer care from start to finish.
We ordered our inground trampoline from Jump Shack. Tyler was SUPER responsive and answered all my questions, he was beyond helpful. While we waited for our order to come in he was very good at communicating updates. Our trampoline was installed today and it is SOO nice... it's seriously gotta be the nicest trampoline I have jumped on. Would definitely recommend Jump Shack to anyone and everyone
Chelsey P.

Tyler has gone above all expectations with helping us get everything ordered and ready for our trampoline! He was so helpful and we are so excited for our trampoline!
Jillian N.

Convenient Prices On Outdoor Playsets
As part of our commitment to making outdoor playsets in Phoenix available to as many families as possible, The Jump Shack offers every piece at a fair, affordable price. You can find at least one 5 ft tower, tarp roof, vinyl ladder, slide, and a space for swings on every single set, with a variety of advanced options featuring an added rock wall, fancier slides, more swings, and other highlights.
Professional Retailer For Kids Swing Sets Serving Phoenix
As a leading retailer for Phoenix kids swing sets, The Jump Shack is an expert at providing opportunities for entertainment. Each Capital Play swing set is designed to fit seamlessly into any backyard landscape while providing a safe, durable foundation for imaginative play. Choose a base model or consider additional features such as a picnic table, mist system, or rope ladder. With comprehensive warranties and excellent service throughout the entire process, we are confident you will be thoroughly satisfied with your investment for years to come. Visit us today and see for yourself why we carry five-star ratings!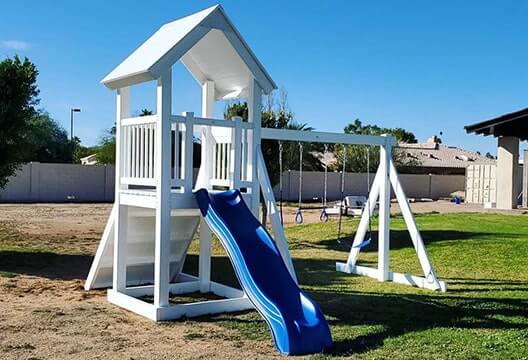 Great Range of Shapes and Sizes
Safest on the Market
Blends Beautifully With Your Backyard
Comprehensive Warranties
Free Local Shipping
High-Quality Playground Sets For Sale Near You
Popular Play Sets For Your Children
When you purchase a Phoenix playground set from The Jump Shack, you can trust that you are getting a quality, durable piece. We strive to use only the highest quality materials to ensure a safe environment for your kids as they learn independent play, imagination, and teamwork. Whether you choose a simple base model or customize your own for a unique experience, our comprehensive warranties and competitive prices do not stop. Browse our reviews to see why our customers love The Jump Shack, and be sure to contact our team with any questions!

Buy A Trending Backyard
Playground Set
Be the highlight of the neighborhood kids with a Phoenix backyard playground set from The Jump Shack! Choose a base model or customize your own features for a modern, unique swing set and play place.

Compare Premium Kids
Backyard Playsets
With our entire inventory available online, you have the opportunity to browse specs, measurements, and other customizable features for each piece. Choose a few to compare, and then visit our Phoenix location to view them in person!

Oversized Childrens Swing Sets
For Sale
At The Jump Shack, we have a wide variety of oversized swing sets available at The Jump Shack. Choose from extra features such as multiple swings, additional slides, a rock wall, fireman's pole, and so much more.

Large-Sized Kids Play Sets
for Backyards
With each piece designed to fit seamlessly with your backyard, our large sized kids play sets in Phoenix are quality, durable, and covered by incredible warranties. Choose from features like dual towers, two slides, and multiple levels!

Phoenix Online Store for Outdoor
Swing Sets
Browse our extensive selection of unique playground sets online, or visit The Jump Shack in Phoenix to view our base models in person. Our experts are always ready to answer your questions or help you customize your own piece!

Customize Your Kids'
Outdoor Playset
If you can't find a base model you love, The Jump Shack offers the opportunity to customize your own outdoor playset in Phoenix. Start with a base model and add more features, or start from the ground up.