Top Rated Arizona Playground Store
The Jump Shack is well known for its extensive selection of high quality, in-ground trampolines available from Capital Play. However, not only do we sell amazing trampolines, but we also offer a variety of unique, exciting playground sets as well. With a wide selection of colors, styles, and options, The Jump Shack has custom sizes available to blend seamlessly with any backyard. Visit us today to learn more!
Shop Above-Ground Trampolines For Sale
Arizona's Leading Trampoline Supplier
As Arizona's top trampoline supplier, our products are top of the line. Our equipment will last years, even in the harshest weather conditions. We carry a variety of trampolines to suit every skill level. Our trampoline experts offer free assessments, give us a call at (800) 414-2001.

Shop Affordable Playground Sets Online
While every playground set at The Jump Shack is crafted from the highest quality parts available, we strive to offer them at affordable prices so every family can have the ultimate backyard addition. View our online selection below!
Testimonials
Five Star Arizona Playground Equipment Store
The Jump Shack is well known for its high quality playground sets and in-ground trampolines. We are committed to bringing hours of fun to every backyard, with custom-sized swingsets in a variety of colors, styles, and sizes to consider. Families highly recommend The Jump Shack for our extra installation service, free local shipping, and excellent customer service. Read through our reviews to learn more about why we are the #1 choice!
We had an above ground trampoline for the longest time, and I was always paranoid about my kids falling off. Even with the net, it was a little worrisome. So we checked out the in-ground trampoline options that the Jump Shack offered and we found the perfect size for our yard. What sold us was how easy the installation looked! We're sooo glad we switched to an in-ground trampoline!
Kathy B.

My kids LOVE our new in-ground trampoline! With it being in the ground, there's no limit to the fun they can have. We also love that it looks really good with our existing landscape. Would highly recommend The Jump Shack's in-ground trampolines!
Natalie R.

We weren't sure if we wanted a trampoline at all, but the kids begged us. We were super worried about the falling off and hurting themselves, even with a net. So we looked at the in-ground trampolines from The Jump Shack and we were amazed at how easy they looked to install. One 8' round trampoline later and our kids are having the time of our lives in our backyard, safely!
Anthony S.

Compare Prices for Outdoor Playsets In Arizona
Each of our available playground sets is offered at a fair, affordable price. Each set comes with at least one 5 ft tower, a tarp roof, vinyl ladder, a slide, and a space for swings. The more advanced options feature an added rockwall, fancier slides, more room for swings, and other extra highlights. All sets come with excellent warranties, installation services, and the opportunity to add more accessories in the future as desired.
Arizona's Leading Retailer for Kids Swing Sets
The Jump Shack is an expert in providing hours of entertainment for people of all ages, and backyards of any size. Our Capital Play swingsets are designed to fit seamlessly into any landscape, while creating endless fun with strong, durable, playset materials. Each swingset has the option to add extra features such as a picnic table or mist system, and all are covered by excellent warranties and customer service.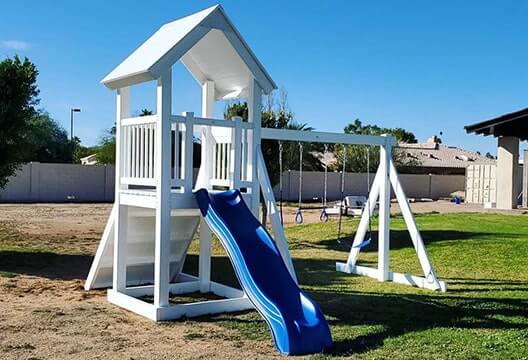 Installation Service Available
Free Shipping In Arizona
Variety Of Styles & Options
Add Picnic Table or Mist System
Custom Sizes Available
Browse Playground Sets For Sale In Arizona
Most Popular Kids Playground Kits In Arizona
The Capital Play in-ground trampolines at The Jump Shack are built to blend seamlessly with any backyard landscape, while promoting hours of safe entertainment. Whether you prefer square, round, or rectangular-shaped, these affordable in-ground trampolines are offered in a variety of sizes, shapes, and colors to ensure a perfect blend in any yard. We also offer professional installation, and extensive warranties so you are guaranteed years of safe entertainment.

Purchase A Trending Backyard Playground In AZ
Be the highlight of the neighborhood with a modern, custom-made playground set from The Jump Shack.

Compare 5 Star Rated Kids Backyard Playsets
Read through our reviews to understand why The Jump Shack is the preferred center for purchasing durable kids playsets.

Browse Oversized Childrens Swing Sets For Sale
To view our extensive selection of unique playground sets, browse our online inventory or visit a Jump Shack location near you.

Large-Sized Kids Play Sets for AZ Backyards
The Fortress is our largest playground set available, with amazing features including dual towers, two slides, multiple levels, and more.

Arizona's Online Store for Outdoor Swing Sets
All our Capital Play swingsets can be viewed online. Each link offers comprehensive information about materials, style, and warranty.

Customize Your Arizona Kids Outdoor Playset
Build the backyard playground of your dreams with our fully customizable playsets at The Jump Shack.