Promote Fun & Safety At The Same Time To Your Inground Trampoline
If you're thinking about adding an in-ground trampoline to your backyard, you're probably looking forward to a fun activity that your whole family can enjoy! You probably also want to make sure that your trampoline is as safe as possible so that your family can enjoy jumping without worrying about anyone becoming injured. The great news is that Gilbert in-ground trampolines are much safer than above-ground models, not only because they are level with the ground to eliminate the risk of falling, but because their springs are safely enclosed to prevent injury.
Besides selecting an Arizona in-ground trampoline model for your family, adding a safety net around your trampoline is one of the best ways to promote fun and safety at the same time. Check out this guide to answer all of your questions about trampoline safety nets!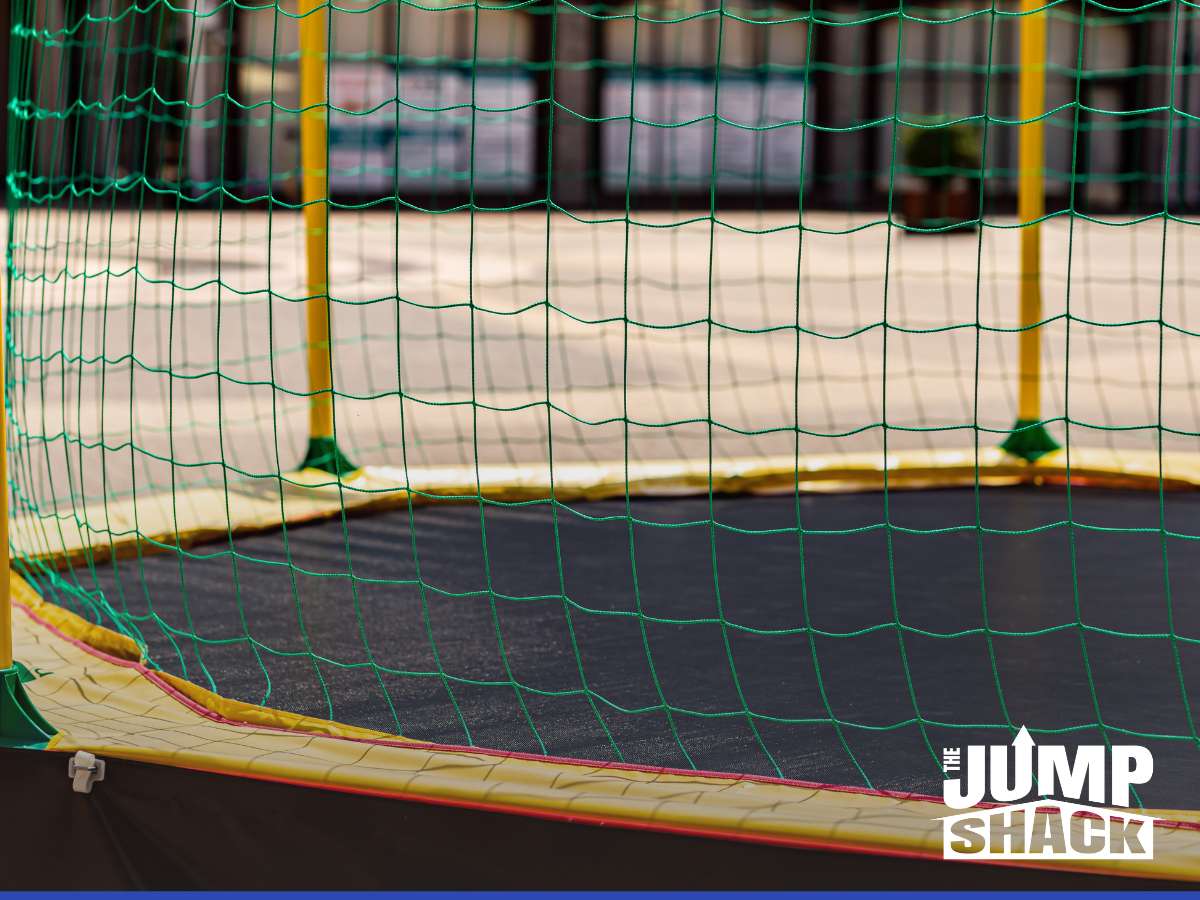 Do Trampoline Safety Nets Increase Jumping Safety?

Generally speaking, yes, a safety net on your trampoline will increase safety for all jumpers. This is especially true for above-ground models, where a trampoline net can significantly reduce the risk of falling and sustaining an injury. However, enclosing your in-ground trampoline with a net will also reduce the already low risk of injury and is a good idea for just about every in-ground trampoline.
How Does A Trampoline Safety Net Work?
Gilbert in-ground trampoline nets are carefully designed to promote safety by preventing jumpers from falling off the mat. On above-ground trampoline models, safety nets reduce the risk of falls. On in-ground trampoline models, a safety net can prevent falls and help avoid injuries that can occur when someone lands on an elbow, shoulder, or knee. Although in-ground trampolines are level with the ground, which significantly reduces the risk of injury, even landing on grass can be uncomfortable. A trampoline safety net can really boost the safety of your in-ground trampoline, making jumping even more fun for everyone.
Do I Need A Safety Net On My Inground Trampoline?
Although safety nets are not required by any established guidelines, they are strongly recommended for ultimate safety and jumping fun. Approximately half of Phoenix in-ground trampolines for sale are sold without a safety net, but it's always recommended to include a safety net in your purchase. Safety nets are especially important if younger children will be using the in-ground trampoline. We recommend installing a safety net around your in-ground trampoline for peace of mind and reassurance that your in-ground trampoline is a safe place for your kids to play.
What Should I Look For When Selecting A Safety Net For My In-Ground Trampoline?
Always look for a Phoenix in-ground trampoline net that is well-designed and crafted from only the highest quality materials, such as polyurethane or similar durable material that can withstand years of use. Your in-ground trampoline safety net should include heavy-duty steel poles that will maintain their strength and shape and be accompanied by custom-designed foam covers that will protect jumpers from injury.
Inspect your safety net carefully to make sure that it is in good condition. Ideally, purchase a safety net from the same company that designed your in-ground trampoline to ensure that it fits properly and is covered under the manufacturer's warranty.
What Are The Best Trampoline Safety Guidelines?
In-ground trampolines provide a fun activity for the whole family to enjoy, with the bonus of including good exercise and the accompanying health benefits. For the ultimate fun and enjoyment of your in-ground trampoline, always follow basic safety guidelines to prevent injury, and follow the manufacturer's instructions carefully.
Only one person should be allowed on the trampoline at a time

Only children who can walk without assistance should play on the trampoline

Children should be supervised at all times while on the trampoline, even if Mesa in-ground trampoline nets have been installed

Encourage jumpers to take breaks and stay hydrated while playing on the trampoline, especially in warmer weather conditions

Install your trampoline on level ground in an open area away from trees, fences, structures, and other obstacles that could create dangerous situations

Never use a trampoline in adverse weather conditions, such as high winds, thunderstorms, or extreme heat situation
With some basic safety guidelines, a high-quality safety net, and a solid installation, you're ready to have some safe and exciting fun with your new in-ground trampoline!
Start Jumping With Arizona's Leading In-Ground Trampoline Company!
Are you ready to add some fun to your backyard? Check out The Jump Shack. As Mesa's top-rated provider of in-ground trampolines, our friendly team is ready to help you find the perfect model for the ultimate jumping fun! We are proud to offer only the highest quality in-ground trampolines in a variety of shapes, sizes, and designs, complete with a generous warranty package and professional installation services. Visit us today to learn more about in-ground trampolines and share the joy of jumping with your family!
The Jump Shack
1528 W San Pedro St #4
Gilbert, AZ 85233
Tel: (800) 414-2001
Email: info@aztrampoline.com
Website: aztrampoline.com