Protecting Your In-Ground Trampoline During the Hot Arizona Summers
No matter the season, Gilbert in-ground trampolines are loads of fun. With endless hours of bouncing and bonding with family and friends, the entertainment and health benefits are unbeatable. However, as with all things, some general maintenance is required for your Gilbert in-ground trampoline parts to ensure the integrity of their strength and longevity. Rather than purchasing a brand new Arizona in-ground trampoline for sale, using it a few times, and then letting it stand unattended all year long without any extra care and attention, your trampoline requires some extra maintenance to ensure optimum performance.
What is the best way to maintain a Gilbert in-ground trampoline with enclosure during the intense Arizona summer? Why does it need so much extra attention anyway? Continue reading to get some tips from the trampoline care experts at The Jump Shack.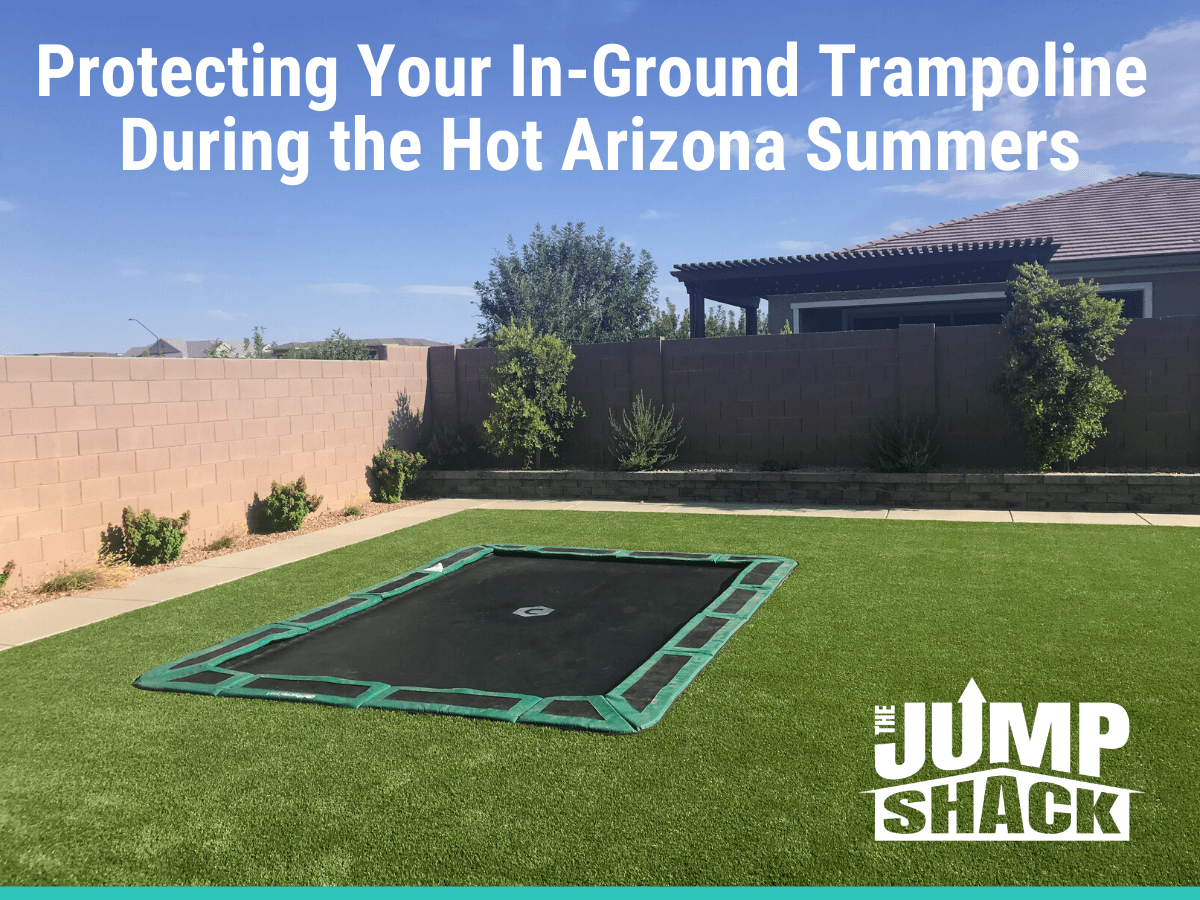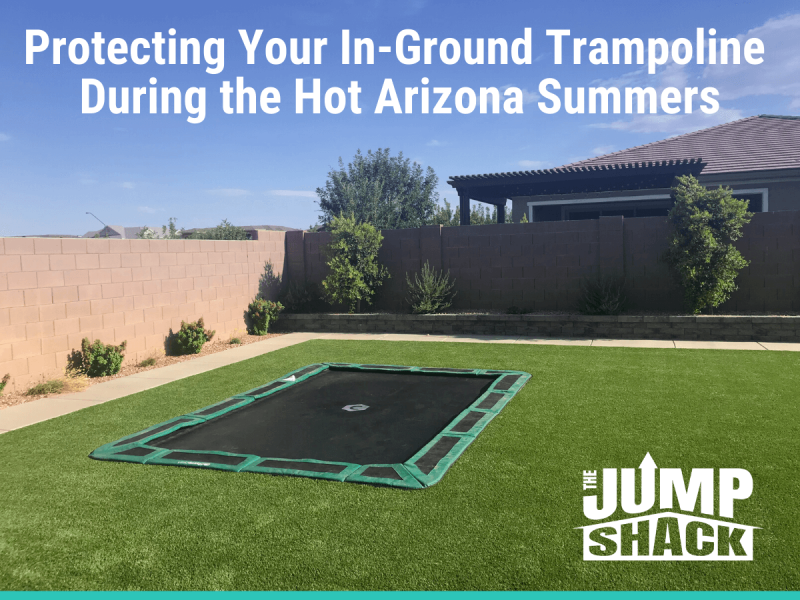 Why Should I Maintain My In-Ground Trampoline?
The answer is simple: there are quite a few solid reasons to take the time for Phoenix in-ground trampoline mat maintenance.
– Good Investment – In-ground trampolines are a fantastic investment. When you consider the various avenues of entertainment out there, including movies, museums, theme parks, water parks, and typical summer festivities, the cost can really add up. But a trampoline is a one-time investment that, with proper maintenance, continues paying you back with hours of entertainment year after year after year.
– Good Way to Remain Active – Not only does having a Phoenix in-ground trampoline net and mat keep your kids active, but it keeps the adults in the family moving as well. These days, it is so easy for kids to lose track of time being glued to a screen, which has a negative influence on both their mental and physical health. Having an Arizona in-ground trampoline enclosure is a fabulous outlet for kids to get moving, think of creative games to play while jumping, and get the whole family entertained for hours. Jumping is also extremely healthy for the body because it gets the heart pumping, lymph nodes draining, muscles and bones strengthening, and improving balance and awareness.
– Maintenance is Affordable – The initial purchase of your in-ground trampoline is actually the biggest investment throughout its lifetime. All other aspects of maintenance are extremely affordable and cost-effective, including new springs, frame pieces, a new mat, or additional Mesa in-ground trampoline accessories.
– Maintain Safety – Last but not least, maintaining your trampoline will help ensure that it never breaks and threatens the safety of anyone jumping on it. While the Capital Play in-ground trampolines at The Jump Shack are manufactured with excellent, high-quality materials, over time and with use these parts eventually get worn and can break down. However, with proper maintenance, you can ensure that all the various trampoline parts and pieces remain strong and durable, which in turn will not compromise the safety of your family.
Summer Maintenance Tips
Anyone living in Arizona knows how intense and extreme the summer heat and sun can be. Summer brings strong thunderstorms, temperature fluctuations, and long days of intense sun. So how can you protect your Gilbert in-ground trampoline during the summer?
– Check the Jump Pad and Frame – Over time, constant exposure to heat and UV rays can take its toll on your Arizona in-ground trampoline mat and net by drying it out and causing breakdown. If you have the option, it is a good idea to install your trampoline where it will get some shade from a tree or your house during certain times of the day. If you notice any signs of tears, damage, or breakdown on your trampoline mat, it is important to replace it immediately to avoid injury from the mat breaking while jumping.
– Use a Cover – The experts at The Jump Shack highly recommend using a Phoenix -in-ground trampoline cover to protect the jump mat when not in use. A cover will protect the mat from exposure to direct sun and UV rays, along with keeping water from puddling on the mat or debris from causing damage. It is important to clean off the cover after inclement weather or rain, to keep it from getting too heavy from standing water or excess debris. Otherwise, extra weight can cause damage to the mat or trampoline frame.
– Wipe It Off – One of the best summertime activities is playing on the in-ground trampoline with a sprinkler running nearby. It keeps the jumpers cool, and keeps the trampoline mat cool as well. The mat is designed to be weather-resistant, so getting it wet is perfectly safe and will not cause damage. Just be sure to wipe off any excess water when you are finished, to avoid mold or mildew growth on the mat or underneath the soft frame pads.
– Inspect All the Parts – Regularly checking the trampoline for damages keeps it in good shape and helps you pinpoint problems before they become hazardous. When purchasing your in-ground trampoline, be sure to talk with the associates at The Jump Shack about your specific model and all its Arizona in-ground trampoline parts, so that you are familiar with all the hardware involved. Generally speaking, you should be regularly inspecting the following areas:
The Mat – be sure it is free of scratches, sagging, tears, or holes, and is still attached properly.
The Springs – make sure they are tightly coiled and not getting stretched or rusty.
The Frame – be sure the frame is still fitted together tightly and correctly, and not showing signs of rust or breakdown.
Maintenance is a necessary part of owning a Capital Play in-ground trampoline from The Jump Shack. If you want a durable, sturdy, safe trampoline that is simple to install, easy to maintain, and guaranteed hours of fun, visit The Jump Shack to browse our selection. We sell top-rated trampolines manufactured with superior quality and durable materials, and provide extensive warranties for every piece available. With a plethora of sizes and shapes available, along with a variety of accessories and additional trampoline parts, our experts at The Jump Shack will help you find the perfect trampoline to suit the needs of your family.
Published by:
The Jump Shack
1528 W San Pedro St #4
Gilbert, AZ 85233
Tel: (800) 414-2001
Email: info@aztrampoline.com
Website: aztrampoline.com[/fusion_text][/fusion_builder_column][/fusion_builder_row][/fusion_builder_container]