Why You Shouldn't Install An Above Ground Trampoline Into The Ground In Arizona
Families love the look and fun of a Gilbert in-ground trampoline. Not only is an in-ground trampoline an attractive addition to your yard, but there are numerous safety benefits and reduced maintenance compared to above ground systems. No moving the trampoline around to maintain the lawn or worrying about wind blowing the whole thing away! At first, sinking your existing, traditional above-ground trampoline into the ground might seem like a relatively easy and cost-effective alternative to buying a new system. But don't do it! It may seem like a good idea, but it usually ends up becoming an expensive and even dangerous mistake.
Here are five reasons why sinking your above-ground trampoline is just a bad idea. If you're considering a purchase of a in-ground trampoline or an above ground system, you're sure to find this guide helpful as you make your decision.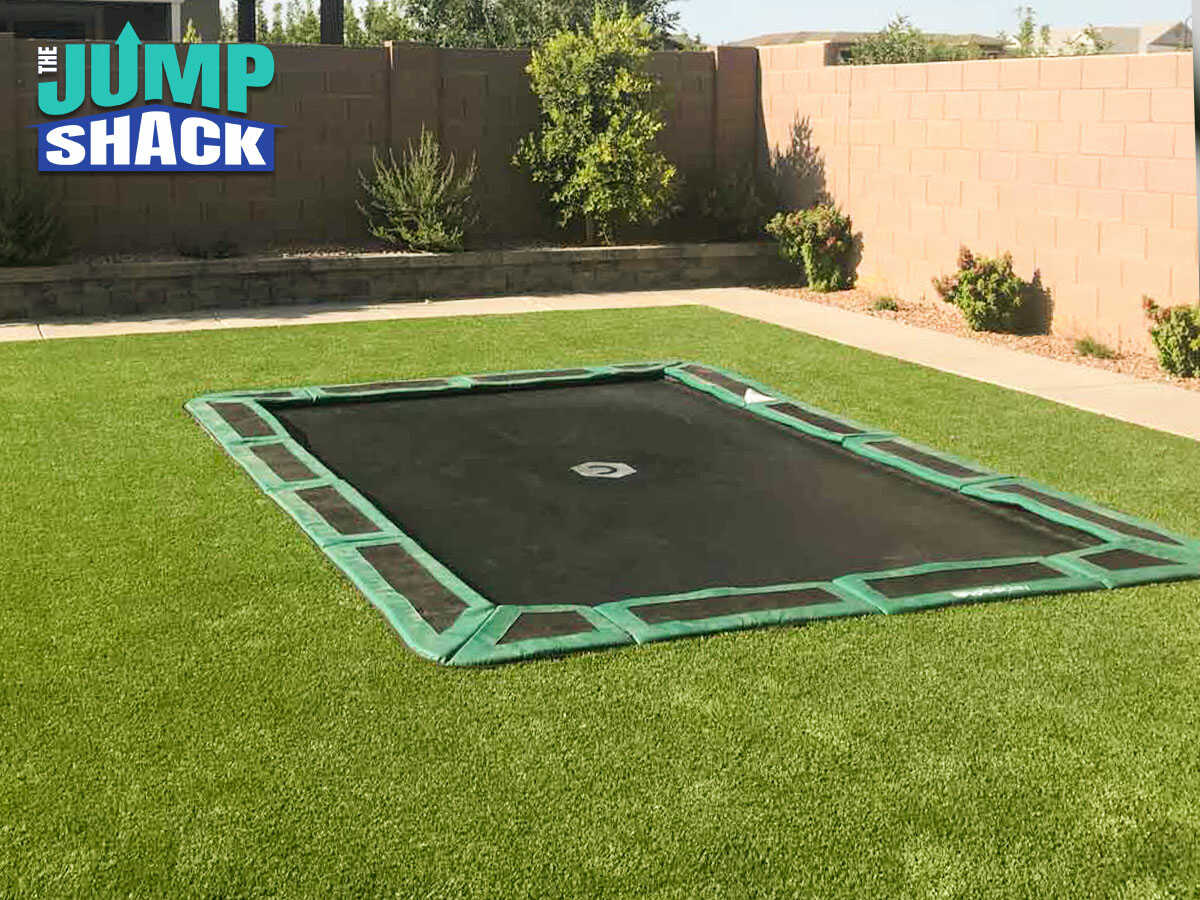 #1: Sinking Your Above Ground Trampoline Means Way More Digging
When you install a purpose built Gilbert in-ground trampoline, you'll discover there is about 40% less digging than when you try to sink your above ground trampoline. Less digging not only makes your installation much, much easier with fewer backaches, but you'll also have a whole lot less soil to dispose of after your project is done. Many people don't realize how much soil expands after it's pulled out of the earth!
#2: Sinking Your Above Ground Trampoline Is Less Safe For The Kids
Above ground trampolines are, of course, designed to be used above the ground. When the system is buried into the ground, the springs can become accessible, leaving your kids vulnerable to injury. To compensate, you'll need to dig both deeper and wider to accommodate the height of the trampoline. Over time, there's the risk that soil will erode into the hole. This could cause jumpers to hit the ground while bouncing. Lastly, as soil erodes, a gap can appear around the edge of the frame and the ground, making a perfect spot for little feet to get trapped and hurt. Avoid all this risk and choose the safest option for your family: a Phoenix in-ground trampoline with enclosure and cover. A purpose built retaining wall will be included with your in-ground trampoline kit, preventing soil erosion and gapping so you can feel confident you are giving your family the safest option.
#3: Sinking Your Above Ground Trampoline Means Reduced Bounce
When you jump on your above ground trampoline, the air underneath your trampoline moves away and escapes around the sides – giving you a great bounce and comfortable movement. But when you put that same trampoline into the ground, the air has nowhere to escape and will push upward against the jump mat. This means your overall bounce will be greatly reduced and a lot less fun. Plus, the air pressure will weaken your trampoline springs and make a very annoying slap pad noise. Get the best bounce with a purpose built Nevada in-ground trampoline system. These systems include uniquely vented pads and jumpmat that allow air to flow freely. You'll love the great bounce with no irritating slapping sounds!
#4: Sinking Your Above Ground Trampoline Shortens Its Life
Above ground trampolines are designed to be exposed to air and sunlight. When you put one under ground, it will be in constant contact with damp soil and air. Eventually the trampoline's frame will rust and the springs will need to be checked and replaced regularly to maintain safety and efficacy. You'll wish you had considered a Gilbert in-ground trampoline for sale that was purposefully designed to be installed into the ground and made with all the right materials to avoid rusting.
#5: Converting An Above Ground Trampoline To An In Ground Costs More & Looks Less Attractive
When you consider the cost of labor, soil disposal, a builder and material for retaining wall, and all the other added costs involved with putting an above ground trampoline into the ground, you may find that buying a in-ground trampoline ends up being more affordable. Plus you won't have to spend every summer replacing worn out springs. A purpose designed in-ground trampoline also just looks way better in your backyard.
Contact a Professional Trampoline Company In Gilbert, AZ
Avoid disappointment, extra expense, low bounce, and an unsafe set up by considering an Arizona in-ground trampoline system. The experts at The Jump Shack can help you choose the best system for your backyard. We offer the widest selection of Arizona in-ground trampolines manufactured to the highest standards, along with a full line of accessories, including nets, covers, and enclosures. Our installation team can make the whole process a breeze so you can focus on your family and get jumping! Contact us or stop by The Jump Shack today for a safe, fun, and attractive in-ground trampoline system!
The Jump Shack
1528 W San Pedro St #4
Gilbert, AZ 85233
Tel: (800) 414-2001
Email: info@aztrampoline.com
Website: aztrampoline.com